One of the aspects that customers appreciate most is the assurance that they will receive quality.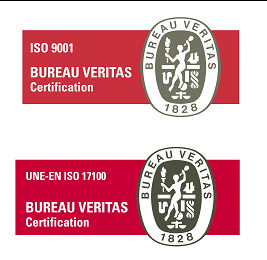 In 2002 HORI-HORI SA obtained a certificate of compliance with standard ISO 9001, which regulates quality management systems. That certificate has been renewed every year since then.
Our goals are continuous improvement, the greatest possible efficiency in the activities of our firm and interested parties satisfaction. To that end:
We regularly assess, measure and check our procedures and activities. In these checks and assessments we apply objective criteria and indicators, always using measurable concepts.
Should any problem, incident or nonconformity arise, corrective measures are taken and procedures are modified if necessary.
Quality in the area of reporting is also guaranteed under this certificate.
In 2016, HORI-HORI SA has acquired the UNE-EN ISO 17100 standard for translation services. Therefore, it is guaranteed that the entire translation process is safeguarded.
At HORI-HORI SA we also apply 2016/679 Regulation on the Protection of Personal Data in all our processes.